While folk are debating solutions for our  problems, blaming foreign money and our immigration programs as the main culprits such as this article – Toronto, don't let Vancouver's housing crisis become yours. Whereby Josh Gordon, an assistant professor at the Simon Fraser University School of Public Policy writes about (and invited a lot of heated arguments): –
Concern about foreign capital is xenophobic or racist
Rising prices are all about low interest rates
There is no data
The problem is all about supply
We want foreign "investment"
Canada created history again.
According to HuffPost,
Bank of America Merrill Lynch noted just months ago that interest rates are the lowest they've been in 5,000 years.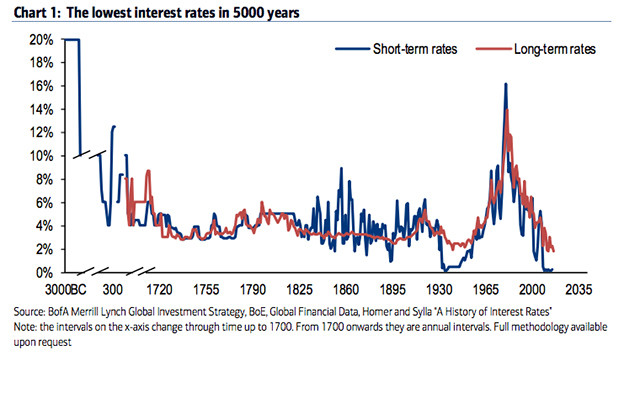 (Chart: BofA Merrill Lynch)
The Bank of Canada's benchmark interest rate sits at 0.5 per cent after Governor Stephen Poloz said it wouldn't change in a July announcement.
Full story here.
What a 'bricks and mortar' fact, eh?
I love cheap money too, but at what cost?
Please make sure our loonies do not keep falling in value … It's not funny to see inflation and taxes keep going up as a result.
Why?
Well, my name is Joe. I don't make any "real" money from the appreciation in real estate prices. But I gotta pay for everything … The City just slammed a tax bill on my face … a whopping 30% increase (about 8% annually). How do you like that?
Meanwhile, real estate is still  the most happening business (inspite of Foreign Buyer Tax that virtually brought the Vancouver market toher knees recently).
The Toronto real estate market is flying higher still,
Revenue Canada has been very busy … Not sure if this is a publicity stunt?
And our Finance Minister wants you to know he is not sleeping on the job,
While the future sounded scary if prices of our real estate do not keep rising just like how M-Theorists postulate about the universe ie. our universe will keep expanding forever … Because it's gonna be very painful should there be a housing crash". For example, million of Canadian couldn't even afford a slight increase in mortgage payment …
At the same time, developers are playing God by restricting supply?
And the Lanlords are certainly not helping either,
Poor renters.
What now?
I gotta take a break somewhere in the woods … Wiseman says: "When there is a crisis, there are always opportunities". Now, the billion dollar question is … What "opportunities"? Do you know?
Please contact me if you do – I'd be very grateful because I am one of those "drowning" folks number in the million. I absolutely needed to make a few more bucks … Thank you in advance.
Image Source