While real estate Vancouver is doing pretty well in June, Toronto on the other hand sinks deeper into the red: –
Home sales in GTA plunge in June
The average price of a home sold in the Greater Toronto Area was $793,915 in June, an eight per cent decline from a month earlier, according to data released Thursday from the Toronto Real Estate Board. On a year over year basis, On a year over year basis, June average prices were still up 6.3 per cent from a year ago … Fall in home Toronto home prices 'a big surprise,' says broker » Financial Post
Significant Toronto Real Estate Price Drop in June
A Big Surprise? 
Not quite. 
One of the main reasons is because Toronto is no Vancouver whereby we have said it all along, that Vancouver should be happening again in a matter of time – "New Taxes On Foreign Buyers Will Not Affect Vancouver Real Estate Sales In The Long Run". Because if foreigners were to buy, the Pacific Utopia Vancouver will always get the attention of those coming from the Middle Kingdom first.  
It's Geofengshui, stupid. 
As for Toronto?
Foreign buyers made up barely 5 % and the rest are local speculators, who apparently have all turned fence sitters (at least for now).
Hamburg New Concert Hall – Elbphilharmonie (Source)
Newly released figures show nearly five per cent of home purchases in Ontario's Greater Golden Horseshoe region were made by non-residents since the Liberal government announced a foreign buyer tax.
More hereunder – "The Facts Behind Toronto's Most Recent Real-Estate Frenzy: Domestic speculation running high"
You know what? Even the paltry 4%-5% isn't home purchase, but agricultural properties. Meaning there is probably NO foreigner buying any residential properties at all.
The government says today that data collected from April 24 to May 26 show 18,282 residential and agricultural properties were bought or acquired in the Greater Golden Horseshoe region. Of those transactions, it says about 4.7 per cent of the properties were bought or acquired by people who aren't citizens or permanent residents, and by foreign corporations » CTV
Is the "threat" to raise interest rate by Bank of Canada few days ago going to be the game changer again this time around?
It may, it may not. 
If it doesn't work like before – that folks aren't rushing to buy a house fearing the interest rate will go up, it's not because Bank of Canada has done "The Boy Who Cried Wolf – Wolf! Wolf! The Wolf is chasing the sheep!" too many times, so much so that no one believes the interest rate is going to go up. The situation today is a lot more complicated, there are many more factors involved.
Perhaps one of the reason is the price level has indeed reached a point where most of the folks are no longer willing to pay. Either believing the price can't possibly appreciate much more or they simply can't afford it no more… This we gotta ask Stephen Poloz. The Man Who Knows It All?
While there are many more possibilities which we'll try to speculate in the next installment, it could be also due to demographics. Again, Toronto is no Vancouver. Unlike foreign buyers who do not necessary have to flip right after they purchase the property, Toronto's speculators are locals who can't afford to keep on speculating if there is no instant profit like what they have been enjoying all these years.
In any case, you never know, these local speculators may start to play up the market again in the next few weeks/months … You know, speculators are some kind of hyperjunkies – they can only stay still for so long.
Meanhwile,
The Toronto area's choppy real estate market may become fairly placid in July and August, as buyers and sellers each try to gauge the level of desperation in the other. … The Globe and Mail
Let's see who has more staying power … The Sellers or the Buyers?
Ding dong, Round Two.
According to Philip Cross of Finanncial Post, "No one foresaw that lowering interest rates and the exchange rate would trigger the housing bubbles in Vancouver and Toronto"
Is Mr. Cross smoking something or what? Or are there new economic logics that we folk are not aware of …?
Since when cheap money does not cause economic problems like inflation, ballooning debts and in this case, housing bubble?
Except maybe for Stephen Poloz, economists and bankers say it all along, Paul Krugman says it all along, we say it all along, that cheap money is … COCAINE.
No one foresaw that lowering interest rates and the exchange rate (which reduced the price foreign investors paid for housing in Canada) would trigger the housing bubbles in Vancouver and Toronto. House prices in Vancouver took off suddenly and …and more » Financial Post
Now they say the Loonie is going tank again. Honestly, we poor folks are really tired of living with cheap Loonie … It sucks, and it really hurts.
Mr. Poloz, can you please make the Loonie classy for once?
For some analysts, including Klarity FX Inc.'s Amo Sahota, the second most-accurate predictor of the loonie's moves last quarter, the reasons for remaining a bear are simple: traders are wildly overestimating the Bank of Canada's desire to raise rates … The Globe and Mail
Here is an interesting read from HuffPost …
Toronto real estate had a sudden surge last year, and we're finally starting to get a better picture of what happened. New statistics released by the Toronto Real Estate Board (TREB) once again confirm everyone didn't just wake up to a shortage of land overnight. Instead it appears that speculators saw a gold rush, adding pressure to prices that sent emotional buyers into a bidding frenzy.
Domestic speculation running high
In the Greater Toronto Area-Hamilton economic zone, 6.2 per cent of homeowners own more than one home. Not 6.2 per cent of transactions in the past few months — 6.2 per cent of all homes. This is in line with the number the Ministry of Finance released just a few weeks ago.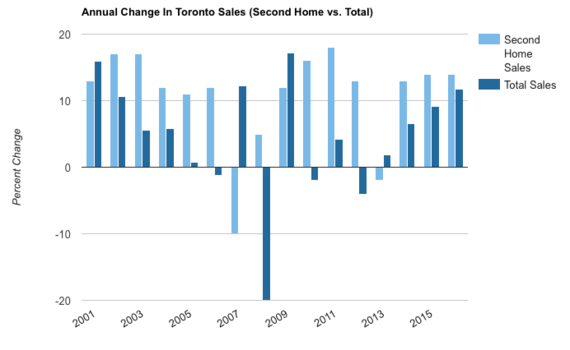 Second home buyers are GTA residents that are registered to multiple property records in the same area. They're only counted once, even if they appeared 15 times. Note, 2007 was a drop, but the Ministry of Finance says this was due to a change in recording standards. (Source: TREB, MPAC, Ministry of Finance and Better Dwelling)
Some might be informal landlords, but the cap rates don't make economic sense. Meaning home prices in Toronto can't be made up with rental income in an efficient way. Most purchases return around two per cent in rental income, which means you'll lose money on a mortgage annually.
Toronto needs to continue building to prevent an actual housing crisis in the future.
These are either extremely dumb business people that can't do math (not likely), or people holding empty to flip at peaks.
Sold in less than a year
A surprising number of properties in the City of Toronto have been bought and sold in less than a year. In 2016, TREB said it was "less than five per cent" but stopped short of giving a number … TREB is a secret society like Freemason?
In just the first five months of 2017 however, it accounted for seven per cent of transactions. TREB called this "a very small share," but to give it context it's about twice as large as Toronto's luxury market. Also probably worth noting here that Toronto's luxury market is considered one of the hottest in the world. In case you didn't catch that, seven per cent of the properties that were sold this year were bought less than 12 months ago — right around when prices started taking off.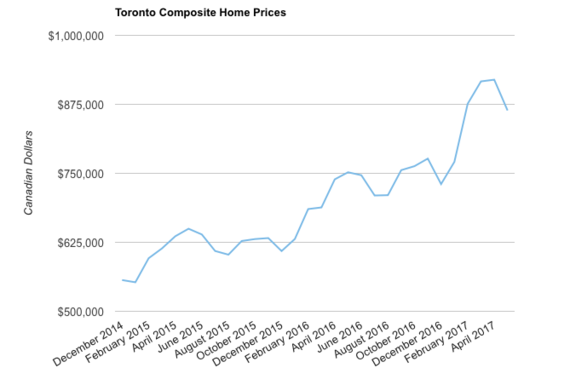 According to TREB, seven per cent of home sales between December 2016 and April 2017 were bought less than 12 months ago. In this period prices rose 25.89 per cent. To contrast, the same period in the year prior was only 14.25 per cent. (Source: TREB)
Read more at HuffPost