Good News
Canada mortgage insurer sees less risk, despite bubble fears
* Loan-loss provisions dip as economy improves
* 3rd-qtr profit rises, but risks of housing correction remain
* Debate over future of CMHC insurance business
TORONTO, Nov 29 (Reuters) – Canada's housing agency said on Friday it has set aside less money to cover bad mortgages as the economy improves, even though concerns about a housing bubble persist.
The Canada Mortgage and Housing Corp (CMHC) said provisions for claims dropped by C$19 million to C$895 million during the third quarter and were down C$101 million for the first nine months of the year as expectations for bad loans fell.
"We have seen improvement in the economic indicators that underlie all of that, so for example, unemployment has improved and home price inflation, which obviously influences the severity of claims, has improved as well," Brian Naish, CMHC's chief financial officer, said on a conference call.
Lower net claims helped CMHC boost profit by 20 percent in the quarter to C$452 million, and total insurance in force dipped slightly to C$559.8 billion. By law, CMHC is limited to insuring C$600 billion in mortgages.
The strong quarterly showing included an arrears rate of just 0.33 percent, a touch below 0.35 percent at the end of 2012. But it comes as concerns about Canada's robust housing market continued.
Economists consistently say Canada's housing market is overvalued and though most have ruled out the risk of a U.S.-style correction, some fear the Canadian government will be on the hook for big losses if the market collapses and CMHC is forced to pay out on the mortgages it insures.
Mortgage default insurance is required for all homebuyers in Canada whose down payment is less than 20 percent. CMHC, which controls about two-thirds of the mortgage insurance market, profits from the premiums paid, but it is at risk if defaults rise dramatically because it has to reimburse lenders – typically big banks – when a consumer defaults.
Earlier this week, the International Monetary Fund said Canada should consider scaling back the CMHC's mortgage insurance role, turning the business over to private mortgage insurers, because it exposes the government to financial system risks and may distort the market's use of capital.
Shrinking the CMHC and handing its insurance business to the private sector has long been advocated by fiscal conservatives, but some analysts say the system provided confidence and stability during the 2008-09 financial crisis, when the U.S. mortgage market crashed.
In its third-quarter results, CMHC said insured volumes of purchased homes climbed 11 percent in the quarter, while refinancings dropped 81 percent in response to federal rule changes introduced in July 2012 that made it harder for homeowners to borrow against their home equity.
The Conservative federal government has tightened mortgage lending rules four times in five years to cool the housing market and prevent homebuyers from taking on too much debt.
CMHC said the average outstanding loan amount was C$141,175, a slight increase from the end of 2012. The average equity in the homeowner loan portfolio was steady at 45 percent. (Reporting by Andrea Hopkins; Editing by Steve Orlofsky)
No worry, be happy
Let's buy Taylor Swift's home … it's only $700,000 – that's what you can get for a rundown shack in Toronto these days.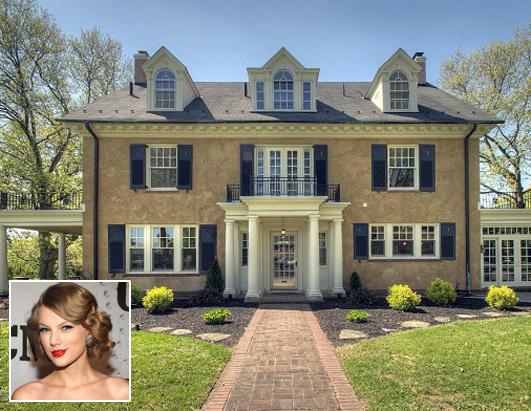 Taylor Swift's six-bedroom childhood home in Reading, Pa. sold for $700,000, originally listed for $799,500. The previous owners bought the house in 2007 for $480,000, shortly before Swift made it big. Swift moved to Nashville at age 14, then snagged a record contract. "People would stop by and take pictures and pose out in the front," the last resident, Daniel Mashevsky, told Philly.com. (Zillow.com)