Mark Carney's gift to UK – "$trillion mortgage insurance borne by taxpayers" ?
U.K. interest policy very Canadian
Carney brings Bank of Canada style to statement on long-term key rate of 0.5%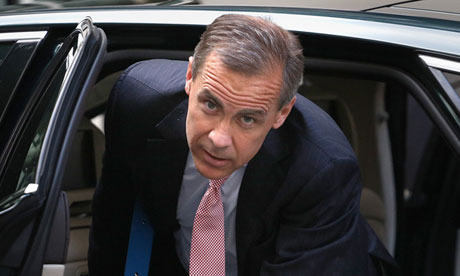 Mark Carney, the new governor of the Bank of England, is taking a Canadian approach in his first act as governor.
OTTAWA — Mark Carney is already causing ripples in Britain in his first week as governor of the Bank of England, even though his methods would be considered old hat in Canada.
Eschewing past practice, the British central bank went beyond simply announcing no changes to the 0.5 per cent key interest rate as it also published a statement explaining the reasoning and suggesting rates would remain depressed for some time.
The dovish statement had the effect of boosting equity prices in England and dropping the pound one cent to $1.51 US.
Under the previous governor, Mervyn King, the bank would typically issue no comment when policy was left unchanged.
But instead the central bank gave some indication where matters are heading by declaring that "the implied rise in the expected future path of bank rate was not warranted by the recent developments in the domestic economy."
It also said it would provide an assessment next month to Treasury chief George Osborne on whether the bank should use forward guidance — a tool Carney introduced in Canada in the spring of 2009 to give markets and investors long-term assurance on interest rate expectations.
"It does appear that the committee are already moving towards more communication on their decisions and towards providing forward guidance on monetary policy," said Howard Archer, IHS Global Insight's chief U.K. and European economist.
Alistair Cotton, a senior analyst with Currencies Direct, said any forward guidance on interest rates would be "warmly greeted by homeowners (with variable mortgages) who will be in a better position to budget and even forecast the right time to lock in."
As Bank of Canada governor, Carney received many plaudits for his aggressive actions in confronting the global financial crisis, including introducing so-called forward guidance — a kind of conditional commitment on the direction of interest rates — that gives a measure of confidence in a generally uncertain world. The approach was later copied, and even expanded on, by Ben Bernanke at the U.S. Federal Reserve.
A Bank of Canada analysis concluded the conditional commitment was able to reduce longer-term rates.
Scotiabank economist Derek Holt said it was unlikely such guidance would be as effective in the United Kingdom at this time, however.
"It was an interesting experiment, but in the U.K. he's not operating in the same context," Holt said. "The market is already convinced rates are going to be low for a long period of time, so … it's likely to carry very little influence."
Thursday statement was closely watched because it was Carney's first since taking over Britain's central bank on July 1.
The Carneys should be used to the attention by now, however. The banker and his British born-wife, Diana, have been in the crosshairs of the British media since the announcement last fall that he would become the first foreigner to head the Bank of England in its 319-year history.
In the last few days, British media have taken Diana to task over a months-old blog entry that suggested individually wrapped tea bags were environmentally wasteful. She has since issued a statement saying she was not "anti-tea bag."
Meanwhile, let's learn a thing or two about mortgage …
4 Things You MUST Know About Your Mortgage
You faithfully pay your mortgage every month, but do you know what goes into it? Probably not. When your current loan term is up, you should take some time to study what goes into your payment. It might help you make a better decision when it comes time to renew your mortgage. Here are a few terms you must know to help you understand your home mortgage.
Principal
Your principal amount is the amount you borrowed. This has to be paid back in full. Obviously, your mortgage is partially made up of this dollar amount. For example, if your home costs $250,000, then $250,000 is the principal.
Interest
Interest is how your lender is compensated. An interest charge of 7 per cent, for example, means that for every $100, your lender earns $7. In fact, if your loan carries on for 25 years, you may end up paying as much interest as principal on the loan.
One way to lower your interest on your mortgage is by using a guarantor – a person who co-signs the loan for you. Usually, it's a person with a strong credit rating who helps you qualify for better mortgage rates and terms.
Interest rates are either variable or fixed. While Canadians seem to love variable rates, they're only really beneficial when interest rates in the marketplace are falling. Otherwise, there's little benefit to carrying a variable-rate mortgage.
Most Canadians are better off choosing fixed-rate mortgages if interest rates are expected to rise within the next 5 years or so. This prevents mortgage payments from rising with market interest rates. Since interest is a large determining factor in the monthly mortgage payment, you should carefully examine whether rates in the marketplace are falling or rising, and choose a mortgage that will help you pay the lowest interest over the life of the loan term.
Taxes
Every Canadian has to pay property taxes which are driven by the value of your property. Many lenders wrap the taxes up into the mortgage payment. This makes paying taxes a little easier to swallow. It's also a great way to ensure that you don't fall behind and end up owing the government back taxes plus penalties.
Insurance
There are a few types of insurance that are sometimes wrapped up into a mortgage repayment. Homeowner's insurance covers the dwelling and contents of your home. It protects you if your house should catch fire, or you're the victim of theft.
If you decide on replacement coverage, it will cover the full replacement cost of the home plus its contents.
Another type of insurance commonly tied into a mortgage payment is PMI (Private Mortgage Insurance). It's protection for the lender in the event that you default on the loan. Should you miss any installments, the insurance pays for you. While this sounds like a good deal, it ruins your credit rating in the process. It's a last resort for the lender to recoup at least part of the principal on loan to you.
Are you getting ready to apply for your first mortgage loan? Visit ComFree.com today to browse listings within your price range.
Author Bio:
Jeff Noble has extensive experience in assisting people with mortgage applications. He also enjoys blogging and sharing his insights.