Stephan Moccio the Canadian composer, arranger and performer who co-wrote the scandalous mega-hit song Wrecking Ball for the Miley Cyrus single that is currently rocketing up the Billboard Hot 100 with the help of nudity and a controversial video.
The titillation of his recent collaboration with Ms. Cyrus notwithstanding, Mr. Moccio says he's a pretty laid-back family man who likes to spend time at home. He is in the midst of moving with his wife and kids from Toronto to Los Angeles after spending most of the past couple of years on an airplane between the two cities. During 2012, Mr. Moccio was a judge on the television show Canada's Got Talent.
"It's a good problem to have," says Mr. Moccio of the pace. "My career is going 200 per cent."
With the move to L.A., the couple has decided to sell their modern house perched on a Rosedale ravine.
61 ASTLEY AVE., TORONTO
ASKING PRICE: $2.395-million
TAXES: $11,982.58 (2013)
LOT SIZE: 27- by 243-feet
When he purchased the house back in 2008, Mr. Moccio was in the middle of writing the famed I Believe theme performed by Nikki Yanofsky for the 2010 Winter Olympic Games. He was also writing musical cues for the CTV network and arrangements for the Montreal Symphony Orchestra. He has collaborated with Seal, Celine Dion and Sarah Brightman. His career was almost as busy as it is now.
"Life was chaos," he recalls.
Read more @ http://www.theglobeandmail.com
Back to Miley Cyrus, currently the biggest "soft porn artist" on earth  …
Miley Cyrus's Wrecking Ball video: parable or 'porn'?
Singer insists it has deeper meaning, but critics say it encourages young women to 'objectify themselves'
DEPENDING on your point of view, Miley Cyrus's Wrecking Ball video is either (a) a symbolic depiction of a destructive relationship, (b) a record-breaking social media phenomenon, or (c) an incitement to young women to "sexually objectify themselves".
Actually, it may be all three. The video, depicting the 19-year-old singer shedding tears, riding naked on a wrecking ball and licking the business-end of a sledgehammer, has thrilled some commentators, appalled others.
Directed by the controversial American fashion photographer Terry Richardson, and released hard on the heels of Cyrus's 'twerking' routine at the MTV Video Awards, the clip was always destined to make waves. Within 24 hours of its release it had been watched by more than 19.3 million people, smashing a record previously held by Justin Bieber.
Cyrus confronted inevitable criticism of the video on social media by explaining its deeper meaning. The wrecking ball symbolises a "destructive relationship", she tweeted and she kisses the sledgehammer "to show that I secretly still love the pain".
Those close to her have expressed their support. Her Australian boyfriend, actor Liam Hemsworth, revealed that the video turned him on. Her father, 52-year-old country singer, Billy Ray Cyrus, said it was evidence of her "God-given talent".
But not everyone is impressed. Writing in The Guardian, Michael Hann says the video doesn't demonstrate a woman exploring her sexuality, it "depicts a woman exploring the iconography of porn".
That was inevitable, writes Hann, because it was made by the "repulsive" Richardson, a "man whose work gives the impression that he looks at a woman and can't help seeing a blow-up sex doll".
Whatever her reasons for making the clip, writes Hann, Cyrus sends a message "that the best way for young women to be noticed is to sexually objectify themselves".
Writing on the website Hypable, Andrew Sims says Wrecking Ball was a good opportunity for Cyrus to "open up emotionally" and display her "mature" side.
"But Miley couldn't resist sexualising the emotional, serious message as much as possible," writes Sims. "What starts off as a sad song with a close-up of Miley shedding a tear turns into a bunch of visual, sexual innuendo which doesn't relate to the single at all."
On the upside, the Daily Mail points out that the Wrecking Ball video is "significantly less controversial" than its predecessor, We Can't Stop. That production showed the former Disney starlet making out with a doll in a swimming pool, twerking with a giant teddy bear and causing smoke to erupt from a man's crotch.
Read More @ http://www.theweek.co.uk/
Miley Cyrus is ludicrous …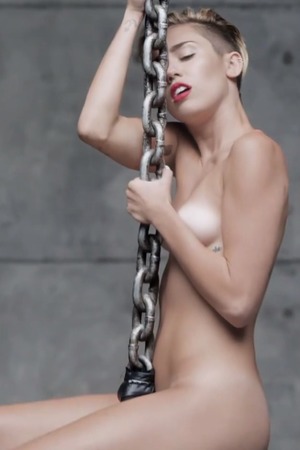 © YouTube
Miley Cyrus's original video