For the most part, Canada's largest bank is increasing the rates by 20 basis points, with its fixed five-year closed mortgage rising to 5.34 per cent and its five-year special rate to 3.89 per cent. The rate changes are effective Thursday.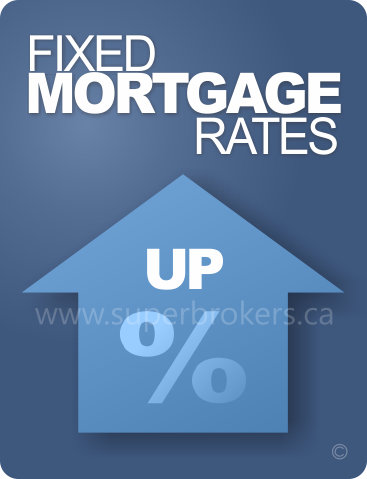 Canada's new mortgage reality
By Brenda Bouw | Balance Sheet
The days of rock-bottom mortgage rates are done.
In a few years, Canadians will sit around the dinner table and reminisce about the "good ol' days" when they could get a mortgage for about 2 per cent.
For those old enough to have paid the 20-per-cent rates in the early 1980s, it will be a story of how much money they saved, especially in the 2010-13 period. For everyone else, it will be a tale of how much more expensive it has become to own a home.
"This is the end of an era," Benjamin Tal, deputy chief economist at CIBC World Markets says of the recent rise in interest rates.
Canada's big banks have increased the cost of fixed-rate mortgage by more than a third in the past few months, announcing this week that they've risen again to just below 4 per cent for a five-year term.
Why are Canadian mortgages rising? And how far could they go?
Blame the U.S. for the rising rates. It's the rise in the benchmark 10-year U.S. Treasury yield, which hit its highest point since 2011 this week, which is helping to drive rates higher, including in Canada.
However, it's for a good reason – because the U.S. economy is starting to recover. That, in turn, is actually helpful for Canada's economy overall given our strong ties to our neighbours to the south, economists note.
Still, it's hard to look at rising rates as a good news story if you have a mortgage, especially in cities such as Vancouver and Toronto where housing costs are highest.
TD Bank estimates its new mortgage rate of 3.8 per cent for the special 5-year fixed term will translate into a $130 rise in monthly mortgage payments since May for the average Canadian home owner with 25-per-cent down over a 25-year amortization period.
While that makes owning a home less affordable, TD economists Derek Burleton and Diana Petramala note that affordability "is still likely to remain decent from a historical perspective."
What's more, the anticipated growth in personal incomes of about 3-to-4 per cent over the next couple of years will help offset the higher rates, the economists say. Not to mention, the correlation between higher interest rates and home price declines should serve to make a rising-rate environment more palpable for homeowners.
Many economists also predict interest rates will rise gradually over the next few years, giving homeowners time to adjust.
Will BMO Rate Hike Send a Chill through Canada's Housing Market?
Meantime, rising rates are expected to have a negative impact on Canada's already volatile housing market.
While rising rates are expected to spur potential buyers to get off the fence and buy a place, the aftermath is anticipated to be a drop in sales.
"As rate hikes are implemented, home sales tend to fall over the next few months that follow," TD said in a note on Friday.
It estimates that for every 1 percentage point increase in interest rates there is an instant increase in sales of 6 percentage points as buyers rush to take advantage of lower rates, followed by a 7-per-cent decline in the months that follow.
"Hence, the net impact is a 1 percentage point permanent decline in existing home sales due to every 1 percentage point increase in interest rates," the bank says.
Winners and losers as Canada bids adieu to record-low interest rates
As Canadians sat on lakeside docks or headed elsewhere on vacation this summer, forces at work in the bond market have helped to reshape many of their financial futures.
Record low interest rates that sent Canadians into a binge of borrowing and home-buying are reverting to more normal levels. Still cheap by historical standards, loans are not nearly as cheap as just a few months ago.
The general consensus has always been that interest rates could not stay so low indefinitely. But the correction has been much quicker than expected. As the economist Rudiger Dornbusch once said, "in economics, things take longer to happen than you think they will, and then they happen faster than you thought that they could."
Interest rates set by the bond market have soared so quickly that they have already reached heights that some economists didn't expect to see until the year's end. Bond prices are falling and yields are rising, as investors bet on a more robust economic recovery that will trigger a "tapering" of the U.S. Federal Reserve's mass purchasing of government bonds to stimulate growth. In anticipation of less demand from the Fed for U.S. bonds, prices have slumped. Canadian bonds have moved the same way, following their U.S. counterparts that set the benchmark for fixed income in North America.
Earlier this year, Finance Minister Jim Flaherty browbeat banks that dared offer five-year mortgages at less than 3 per cent. Now rates are headed for 4 per cent on the same mortgage.
At the same time, yield investments that Canadians flocked to in recent years have plunged.
It's not all gloom. If you are lucky enough to have a defined benefit pension plan, it is likely in better shape. Shareholders of banks and insurers should be feeling a little better too once they see the effect on earnings.
What's getting hit?
Income investments
For the past five years, as markets gyrated, Canadians flocked to investments that paid dividends or interest. If you couldn't have gains from the market, at least you could have a little income. What investors would pay for that income depended on what they could get elsewhere. Now that interest rates are rising on government bonds, investors are requiring more yield on other, riskier investments. That's driving down prices on such things as preferred shares, and fast. The iShares S&P/TSX Canadian Preferred Shares Index Fund has handed owners a negative 8.2-per-cent return since it peaked in early April and started heading down.
The yield on the 10-year government bond has soared more than a full percentage point since its low for 2013, set on May 13. "That's actually the biggest 15-week move in Canadian bonds since the massive rout in 1994," BMO Nesbitt Burns chief economist Doug Porter said in a research note. The price has gone in the opposite direction. The DEX Universe index, a benchmark for all Canadian bonds, has provided a negative 2.9-per-cent return.
Real estate investment and other yield stocks have faced similar headwinds.
The ballyhooed Apple Inc. 30-year bond that the computer maker sold in May could well come to define the peak for yield investments. It has lost almost 20 per cent of its value.
Home buyers
The era of record-low mortgage prices is coming to an end.
Mortgage rates, which are determined by a bank's funding costs in the bond market, have started to climb from the historic lows seen in the past two years, where offers of 2.99 per cent prevailed. The five-year fixed-rate mortgage market, which is based on a 5-year bond yield plus a margin built in by the lenders, is the first to show signs of upward pressure.
While posted rates – those advertised publicly by the banks – haven't changed much, the special discounted rates offered by lenders inside branches are now moving upward. This means the cost of home ownership will rise, which could stunt real estate demand.
"The recent increase in mortgage rates is likely to lead to a deterioration in affordability, at least when evaluated at the five-year fixed rate," said Derek Burleton, deputy chief economist at Toronto-Dominion Bank in a research note. "However, affordability is still likely to remain decent from a historical perspective." Mr. Burleton said home buyers who take out a five-year fixed rate mortgage with a 25-year amortization on an average-priced home will likely see a $130 increase in monthly payments compared to May, when rates were at their lowest.
"The potential increase in mortgage rates over the next few years will likely mean that households will have to devote a percentage point more of their income to debt interest costs," Mr. Burleton said.
What's getting help
Bank earnings
For the past several years, banks have groaned about the low-interest-rate environment, which limited their profit margins. They will soon have less to gripe about.
The lenders get a clear operational benefit from higher interest rates because this allows the banks to reap a bigger spread between their cost of funds (such as interest on deposits or raising money in the bond market) and the rates they charge customers on loans. These spreads, or net interest margins, became razor thin over the past two years, slowing profit growth at the Big Six Canadian lenders. That left the banks scrambling for other ways to drive revenue – fees derived from their capital markets businesses, for example, while also boosting the volume of loans they wrote to make up for the tight margins.
Bank customers shouldn't expect a meaningful increase in the interest paid out on deposits. That will require a larger, prolonged increase in rates.
The uptick in rates has also benefited the banks by boosting their mortgage business, pushing some home buyers into the market sooner than they planned, in an effort to lock in at lower prices. "In the short term, the rise in rates has appeared to pull mortgage growth forward for banks," said Sumit Malhotra, an analyst at Macquarie Capital Markets.
Insurers
Almost nothing hurt profits at big insurance companies in recent years more than low interest rates. They sell a lot of products guaranteeing future income to buyers. Lower rates make it hard to meet those pledges, and force insurers to set aside money to ensure the promises are kept. With rates going the other direction, shareholders will see some of that profit come back. For example, Manulife Financial said in its most recent quarterly report that every increase of 1 per cent in interest rates across bond markets adds $300-million to earnings.
Pensions
If you're in a defined benefit pension plan (an increasingly rare position, to be sure), there is a good chance you have gotten a letter over the past few years explaining the plan is coming up short on what's known as the solvency test. The jump in interest rates should help fix that problem. Rising rates mean the assets in the plan can earn more, closing any funding gap. Companies that pay for the plans will also be pleased, as they won't have as much pressure to contribute to fill pension holes.
"As solvency improves, so does everybody's stress level go down," said Ian Markham, a senior actuary at Towers Watson, which provides consulting services to pension plans. He noted that it is not only defined benefit plans that get help. Anyone retiring soon and cashing out assets from a defined contribution plans to buy an annuity will find prices and payouts better.
What hasn't changed.
Bank deposit rates
Higher interest rates mean you will get more on your money when you put it on deposit at the bank, right? Sadly, no. So far, rates in the short-term interest-rate market, for things like overnight loans and short-term deposits, have remained stubbornly close to zero. That won't change until the Bank of Canada starts to raise its target for the overnight lending rate between banks. That's not expected to happen this year. Those looking to take advantage of higher rates will need to put money in longer-term fixed income investments.
What's the outlook?
If economists are right, most of the rise in longer-term interest rates is behind Canadians, at least this year. The 10-year Government of Canada bond yielded 2.69 per cent as of Friday afternoon, already ahead of the 2.61 per cent that economists surveyed by Bloomberg expected it to reach by year end. By the end of 2014, however, the Bloomberg survey calls for a 10-year bond yield of 3.21 per cent.