CREA Updates Resale Housing Forecast
 The Canadian Real Estate Association (CREA) has updated its forecast for home sales activity via the Multiple Listing Service® (MLS®) Systems of Canadian real estate Boards and Associations for 2014 and 2015.
Extraordinarily bleak winter weather made for a slow start to 2014 national sales activity. As the first quarter ended, sales momentum heading into spring was constrained by a continuing shortage of listings in a number of local markets. The rise in newly listed properties in April and May supported an increase in sales activity.
Sale of the Week: this $1.7m home looks tiny from the street, but it's got it where it counts pic.twitter.com/vW0LIX5KWB
The deferral of sales and listings reflects a delayed start to the spring home buying season, with combined sales for the period from March to May coming in largely as anticipated and at average levels. These deferrals are now likely to have been largely depleted, which suggests that the strength of sales momentum heading into the summer may be transient.
CREA's forecast for sales activity in 2014 is largely unchanged from its previous forecast published in March. At that time, interest rates had been expected to start to edge higher in the second half of the year. However, it now appears that interest rates may not begin to rise until closer to the end of the year, which remains supportive for home ownership affordability over the balance of 2014.
Sales are forecast to reach 463,400 units in 2014, representing an increase of 1.2 per cent compared to 2013. This is little changed from CREA's forecast of 463,700 sales (rising 1.3 per cent) published in March.
Activity is still expected to remain in line with its 10-year average and to hold within fairly short reach of 450,000 units for the seventh consecutive year.
British Columbia is forecast to post the largest year-over-year increase in activity (8.3 per cent), and make the biggest contribution to the increase in national sales activity. B.C.'s projected increase in sales this year largely reflects a slow start to 2013.
Alberta's annual sales are projected to rise by +3.8 per cent increase in 2014, while activity in Saskatchewan,Manitoba, and Ontario is expected to be roughly in line with 2013 levels. Sales are forecast to fall by 1.7 per cent andQuebec, 4.2 per cent in New Brunswick in 2014, 5.1 per cent in Nova Scotia, and by 2.6 per cent in Newfoundlandand Labrador.
In 2015, the outlook for the economy, jobs and incomes is one of further improvement, accompanied by a slow and gradual increase in fixed and variable mortgage interest rates.
On balance, these two opposing factors should most benefit housing markets where sales are currently softer but prices remain more affordable. Sales in relatively less affordable housing markets are likely to be more sensitive to higher fixed mortgage rates, whether from the standpoint of higher monthly mortgage payments or qualification for mortgage financing based on the posted five-year mortgage interest rate.
As such, provinces east of Ontario are expected to post the largest gains in activity in 2015 in the range of around 2.5 to five per cent, while sales in provinces from British Columbia to Ontario are forecast to remain little changed.
National activity is now forecast to reach 467,800 units in 2015, representing a further annual increase of 0.9 per cent. This would result in sales staying in line with the 10-year average for the eighth year in a row.
Average prices have remained firm and continue to reflect a rise in the share of national sales among some ofCanada's most active and expensive markets compared to last year. Additionally, prices have been heating up in some markets, particularly in Calgary and Toronto where single family properties remain in short supply.
The national average home price is now projected to rise by 5.7 per cent to $404,300 in 2014, with similar sized gains in British Columbia, Alberta, and Ontario. More modest changes in average prices are forecast for all other provinces this year.
The national average price is forecast to edge up a further 0.7 per cent in 2015 to $407,300. Alberta and Manitoba are forecast to post average price gains of two per cent in 2015, followed closely by Ontario at 1.2 per cent. Average prices in all other provinces are forecast to remain stable, edging up by less than one percentage point.
SOURCE Canadian Real Estate Association
Toronto's building on up
Toronto looks like a city of cranes from 42 storeys above on University Ave. The south-facing view from the penthouse condo at University and Dundas St. W. shows panoramic vistas of the skyline stretching to the lake. But Motley Fool says,
Forget Buying a House; Buy These REITs and Rent Instead
Over the last decade, Canadian housing has been a terrific asset. It seemingly doesn't matter which city it is, prices have shot upwards.
According to the Canadian Real Estate Association, the average Canadian house rose more than 70% in value since 2005. Certain markets, like Vancouver and Montreal, actually lagged the average, while markets like Calgary, Saskatoon, and Regina easily exceeded it. Toronto, Canada's largest market, grew at about the same pace as the country as a whole.
Many Canadians are extremely bullish on housing. For many, especially those burned by stocks during the Great Recession of 2008-09, housing has been their best performing asset. Even now, as the chorus of market observers saying Canada is in a housing bubble grows even louder, real estate still continues to perform, easily outpacing inflation on a year over year basis.
But, alas, things aren't as good as they seem. Many of Canada's cities have real estate markets that belie the national number.
Markets east of Ottawa are showing weakness, while Toronto and Calgary's red hot results largely make up for it. Even former high flying markets such as Saskatoon, Kelowna, and Victoria have recently started showing year over year declines. But since Toronto and Calgary are Canada's first and fourth largest markets, they mask the weakness happening across smaller markets.
At some point, it will all end badly. We saw it happen in the United States, and it will happen in Canada. One day, a multitude of factors will cause values to start declining across the country, and then consumers will start to lose confidence in real estate. Perhaps the result won't be as bad as the United States's crash, but it won't be good.
After such a large run-up in values, holding real estate in most of Canada's largest cities isn't a good idea. But not only that, it wasn't even a good idea even during the greatest real estate bull market in history.
As an example, let's say an investor paid $100,000 for the average Canadian house exactly a decade ago. For the sake of simplicity, let's ignore all the associated costs with owning — things like property taxes, maintenance, and so on — and just look at a simple return. After the last decade, this investor's house would be worth $170,000, give or take.
If the same investor would have invested $100,000 in RioCan (TSX: REI.UN), Canada's largest REIT, at the exact same time, their shares would be worth approximately $181,000. Already, investing in RioCan has turned out to be a better investment than simply buying a house.
But what if the investor reinvested their dividends into more RioCan shares? Then the initial $100,000 would have grown into more than $235,000, which works out to an almost 13% compounded return. Over the last decade, buying shares of RioCan trounced buying a house.
Investors who bought shares in Canadian Apartments REIT (TSX: CAR.UN) would have enjoyed even better results. Shares increased more than 88% over the decade, and were up almost 14% per year if dividends were reinvested. That's almost double the return of buying a house, without any of the headaches involved.
Even buying H&R REIT (TSX: HR.UN), which was the lagger of the entire REIT sector, wouldn't have ended up being such a bad move. Shares increased 49% during the last decade, but the total return was 10.8% annually once dividends were reinvested.
Boardwalk REIT (TSX: BEI.UN) would have been the big winner though. If investors bought $100,000 of Boardwalk's shares back in 2004, and reinvested all dividends, the investment would be worth more than $600,000 today.
REIT investors have been able to outperform homeowners by such a huge margin because REITs generate income, and homes do not. It's that simple. I understand that people need to live somewhere, and property ownership is a dream for many. Owning your own home has all sorts of intangible benefits. But even after the greatest bull market in Canadian history, the fact remains that it's not a very good investment.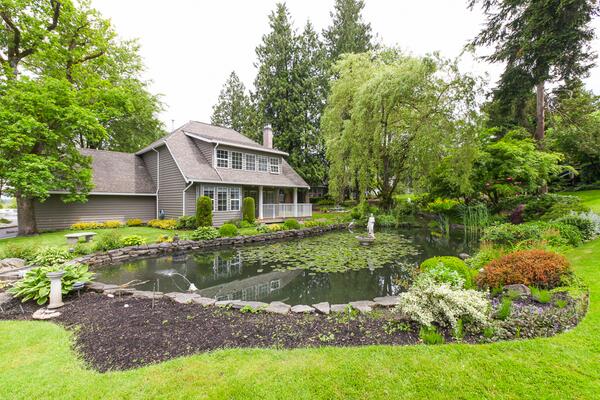 Cedar Crest Estates of Murrayville offers the finest in adult townhome living and this garden home pulsates charm! Indoor features include cross hall formal dining and living areas, extra large windows for natural light, crown mouldings, step saver kitchen with garden window, skylight, pantry and additional cabinets, family area overlooks cozy, private patio. Mbdrm on main features 4 piece ensuite bath, jack & jill closets; upper floor features den, guest bdrm with 3 piece bath and oversize hobby/storage area with skylight. Outdoor features include private west patio overlooking creek & green space, beautifully maintained grounds with water feature; area amenities include shops, coffee houses and more.
* Price: 469,900 CAD (~ $ 433,127 USD) (Built area: 2,265.12 CAD / m2) 
Motley Fool must be a fool ?