First, the "bad" news – The government is going to make housing purchase much more exclusive …
Stricter lending rules continue to slow underwriting activity at the CMHC and taxpayers' exposure to a housing crash, the federal housing agency's second-quarter report shows.
Next, the  $1.1 trillion story …
Mortgage Debt Exploded In Past 4 Years, Bank Of Canada Data Shows
The Bank of Canada kept its key interest rate at a very low one per cent for the 24th time in a row this week, a move that surprised nobody.
But we are now approaching four years since the bank dropped its rate to rock-bottom levels, and while most economists agree the move was needed to keep Canada's economy (relatively) healthy during these years of turmoil, those low rates have had some negative effect.
As the C.D. Howe Institute argued this spring, and as former Bank of Canada Governor Mark Carney hinted, low interest rates have caused a risky explosion in consumer debt, and particularly in mortgage debt — one that could come back to haunt the country.
According to data released last month by the Bank of Canada, the total amount mortgage debt held by Canada's chartered just about doubled in the past four years, to $879 billion in June, 2013, from $436.6 billion in June, 2009.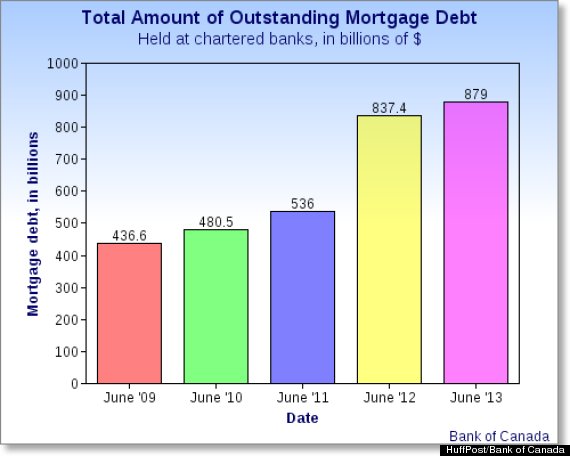 Even with the housing market undergoing a "mini slump" over the past year, mortgage debt grew five per cent, or about double income growth, in that time. That indicates Canadians' mortgage debt, as a share of income, continues to climb.
And that's just mortgage debt held at the chartered banks; it doesn't include mortgages held by small brokerages. Add that to the total, and the Globe and Mail estimates Canada's debt burden to be at $1.1 trillion.
With so much riding on the ability of Canadians to pay their mortgages, Bank of Canada Governor Stephen Poloz is in no hurry to hike interest rates.
But it's inevitable that they will start rising, and for holders of fixed-rate mortgages, they've already begun rising. That's thanks to rising bond yields, which are pushing up the cost of banks' mortgage lending.
TD Bank forecast recently that five-year, fixed-rate mortgages will hit 5.74 per cent by 2017, up from around 3.5 per cent today.
A rise of that much would make payments less affordable for mortgage holders, and would price a significant portion of home-buyers out of the market — not to mention the downward pressure it would put on house prices.
The good news? Canadians are taking on debt at a slower pace than at any time in the past 17 years, BMO Nesbitt Burns reported this week. Household credit grew four per cent in the past year, the slowest pace since 1996. But even that slow pace is still faster than income growth, which is hovering at around 2.5 per cent annually.
Given the enormous debt burdens Canadians have run up in these years of rock-bottom rates, an upward adjustment in interest rates — even if painful to homeowners — might be just what's needed to keep Canadians out of bankruptcy court.
Meanwhile,
Macquarie Said to Exit Real Estate, Leveraged Finance in Canada
Macquarie Group Ltd. (MQG), Australia's biggest investment bank, is exiting its real estate and leveraged-finance investment-banking businesses in Canada, according to a person with direct knowledge of the change.
Macquarie Capital Markets Canada cut "a very small number" of jobs today in areas that aren't considered essential, said the person, who asked not to be identified because the information hasn't been made public. The Sydney-based firm is focusing on oil-and-gas, resources, infrastructure and related equity capital markets in the country, the person said.
New Listings Wed Sep 4 2013
Open Map
C2720278 – M3H – 514 WILSON HEIGHTS BLVD Toronto, Ontario – $ 769,900
Charming 3Brm Detached Home On A Massive Oversized 54 10 X185 Lot! Steps To Sheppard Ave. And Downsview Subway Station. Direct Access To Allen Rd. And …
C2720806 – – $ 2,390,000
Price Change. Aug 23: $ 1,899,000 Sep 4: $ 2,390,000
Located On Private Safe Court Of Windfields.Step To The Excellent Denlow Elementery & York Mill Ci,Fully Renovated.Over 6,000 Sq Ft Living Space …
C2723143 – M4J – 8 HAVENBROOK BLVD Toronto, Ontario – $ 775,000
Price Change. Sep 4: $ 775,000 Aug 27: $ 789,000
Prestigious Henry Farm Location, Across From Havenbrook Park, Tennis Courts & Baseball Diamond. Short Walk To Subway, Fairview Shopping, Betty Sutherland …
C2727134 – M4W – 116 GLEN RD Toronto, Ontario – $ 2,395,000
Stunning Designer Finishes In This Fantastic N. Rosedale Hm. Natural Light Thru/Out From Skylights & Windows. Custom Glass Railing.Incredible, Total …
C2727160 – M2H – 86 LOGANBERRY CRES Toronto, Ontario – $ 618,000
Great Family Home In A Desirable Ravine Location,With Many Recent Upgrade: Main & Upper Flr Hrdwd(2011), Driveway(2011),Garage Door(2011), Some …
C2727180 – M2L – 55 ARJAY CRES Toronto, Ontario – $ 2,950,000
Rear To Find Property. Beautiful Unique Lot In A Very Private Cres. Of The Most Prestigious Area Of Toronto. A Large 3+2 B/R Bungalow In Bridle Path Area …
C2727201 – M3C – 169 COTTONWOOD DR Toronto, Ontario – $ 699,000
Gorgeous Spacious Newly Updated 3 Bedroom Bungalow On Quiet Don Mills Street Steps To Shops On Don Mills. Just Move In And Enjoy This Lovely Property. …
C2727216 – M3A – 59 OVERBANK CRES Toronto, Ontario – $ 688,800
Original Owner! Well-Loved Updated Bright & Cheerful Ranch-Style Bungalow With 2-Car Garage (Tandem) On A Large Private Park-Like Lot & Much Sought-After …
C2727227 – M6B – 285 HILLHURST BLVD Toronto, Ontario – $ 1,250,000
Stunning Renovated 5 Bedroom Home W/4 Levels Of Living Space On 50 Foot Lot & Quietly Nestled On Beautiful Tree Lined Street. Open Concept …
C2727279 – M6J – 161 SHAW ST Toronto, Ontario – $ 779,000
Rare Opportunity To Own A Victorian Home In Trinity Bellwoods. Same Owner For 49 Years. Home In Excellent Condition. Large And Rare 4 Bedroom. Double Car …
C2727282 – M6G – 4 GREENSIDES AVE Toronto, Ontario – $ 699,000
Stunning 3Bdrm Family Home In The Heart Of Hillcrest Village. Open Concept Main Floor With Powder Room. Gorgeous Kitchen With Sliding Glass Doors To …
C2727289 – M5N – 1086A AVENUE RD Toronto, Ontario – $ 699,000
Two Family Dwelling Suitable For Friends And Family Co-Habiting Or As An Investment To Build Your Retirement Nest Egg. Two Similar Two Bedroom Suites …
C2727294 – M3C – 19 ROYAL OAK DR Toronto, Ontario – $ 2,399,000
Rarely Offered In This Neighborhood: Large, Ranch Style Bungalow On A Prestige High Ground In The Most Coveted The Bridle Path Area Sun-Drenched South …
C2727335 – M5M – 160 YONGE BLVD Toronto, Ontario – $ 1,699,000
Location,Location,Location,Huge 50 X 190Ft Irregular(210Ft At Deepest Point),Ravine Like Setting,Live In Or Build Your Dream Home, Permit & …
C2727355 – M6K – 26 WESTERN BATTERY RD Toronto, Ontario – $ 295,000
Lovely End Unit Townhouse In Sought After Liberty Village! Bright, Open Concept Living Space With Wrap Around Windows. Large Private Covered Porch. …
C2727388 – M4N – 157 GLENFOREST RD Toronto, Ontario – $ 1,499,000
** Quality Custom 8 Yr Old New Build ** Walk To Yonge And Lawrence Subway Or Bus Available ** 9 Ft Ceilings On Main Floor ** Fabulous Large Deck For …
C2727391 – M3A – 222 LYNEDOCK CRES Toronto, Ontario – $ 425,000
Beautiful 3-Level Backsplit Semi-Detached Home In The Well-Established, Desirable Parkwoods-Donalda Community. Features Open-Concept Living Space With …
C2727413 – M2R – 264 FISHERVILLE RD Toronto, Ontario – $ 719,000
Investors Delight! Fully Rented For $ 5150/Month! Prime Location, 1 Bus To Subway And York U, Short Walk To Plazas On Steeles/Bathurst! Huge Backyard …
C2727429 – M5S – 70 ULSTER ST Toronto, Ontario – $ 879,900
This Charming Home Is A Fabulous Opportunity In The Prestigious And Sought After South Annex Area. Corner Lot Featuring A Beautiful Open Concept Layout, 3 …
C2727433 – M6J – 342 SHAW ST Toronto, Ontario – $ 1,199,000
Rare & Absolutely Pristine Huge Victorian On Best Part Of Shaw, Currently A Single Family. Many Possible Uses. Family Owned And Loved For 47 Years. …
C2727437 – M2R – 87 FISHERVILLE RD Toronto, Ontario – $ 999,999
A Spectacular 75 Wide Lot In Newtonbrook , Beautiful 5 Bdrm Family Home, Spacious Kitchenw/Breakfast Area, Granite Counters & B/I Appliances, Hardwood …
C2727438 – M2J – 140 BRIAN DR Toronto, Ontario – $ 719,000
Welcome To 140 Brian Drive! Well Built & Original Owner. High Demand Brian Village/Pleasant View! Front Veranda Bright & Spacious Living Room/Dining …
C2727449 – M6G – 483 DUPONT ST Toronto, Ontario – $ 796,900
3-Storey Contemporary Town Home At Annex Loft Houses. Beautiful Loft House In A Boutique Development Offers Modern Finishings Throughout, Including …
C2727506 – M1N – 465 CRANBROOKE AVE Toronto, Ontario – $ 2,349,000
Feat. In Toronto s Star s Home Section! Stunning Exterior Leads To The Impressive Centre Hall Of This Custom Built Home On Rare 50 South Lot In …
C2727526 – M2N – 264 FINCH AVE E Toronto, Ontario – $ 1,599,000
Prime Development Lot In Heart Of North York .Suitable For Multiunit Residential,Town Houses.Great Lot Size On Finch Ave East 170 Feet …
C2727528 – M1W – 392 ST GERMAIN AVE Toronto, Ontario – $ 1,249,000
Ever Feel Tired Of Cookie-Cutter Rooms? Ever Covet The Lofts Of Downtown? Ever Wish For Something Just A Bit Extraordinary? Unique Sun-Filled Family …
C2727584 – M2P – 157 FENN AVE Toronto, Ontario – $ 4,000
Fully Furnished 3+2 Bedroom Bungalow With Walkout Lower Level. 2 Fireplaces. Separate Dining Rm. Entrance From Driveway To Lower Level. Steps To St …
C2727601 – M5P – 107 LASCELLES BLVD Toronto, Ontario – $ 1,999,990
With The Finest Of Craftsmanship, This Chaplin Estates Home Is The One You ve Been Waiting For! Superior Finishes, Including 10 Foot Ceilings On Main …
C2727602 – M4S – 100 REDPATH AVE Toronto, Ontario – $ 415,000
Stunning Condo Townhome W/Gas Fireplace, Potlights, Wood Stairs, Ceramic Floors, New Berber Carpets On 2nd Level. 2 Washrooms(2Pc&4Pc). 2nd Room Ideal For …
C2727603 – M6J – 229 CLAREMONT ST Toronto, Ontario – $ 1,099,000
Move In Today, To This Stylish Corner Home At Trinity Bellwoods. Wide Home, 2100 Square Feet Of Contemporary Living Space In The Heart Of Downtown West. …
C2727616 – M2K – 6 SAWLEY DR Toronto, Ontario – $ 799,900
Attractive Solid Brick Family Home In Wonderful Neighbourhood, Fabulous Family Room Addition Combined With Reno d Kitchen, Superbly Landscaped Gardens …
C2727640 – M4T – 113 INGLEWOOD DR Toronto, Ontario – $ 2,095,000
Distinguished & Sophisticated Midtown 3+1 Bed Executive Home On A Meticulously Landscaped Lot On Inglewood Dr, With A Private Backyard Escape, Detached …
C2727643 – M4W – 56 CLUNY DR Toronto, Ontario – $ 4,800,000
Located In One Of Toronto s Most Prestigious Neighbourhoods On A Street Replete With Mature Trees. Impeccable Details Include: Jatoba Hardwood Floors …
C2727662 – M2M – 53 ATHABASKA AVE Toronto, Ontario – $ 719,000
Nice Willowdale Bungalow With Sunny South Yard In Excellent Neighbourhood. Prime Building Lot In High Demand Location. Great Investment Potential. Many …
C2727672 – M4N – 181 GLENFOREST RD Toronto, Ontario – $ 1,029,000
Lovely, Bright & Spacious 2+1 Br Home In One Of Toronto s Most Desirable Neighborhoods. Walk To Subwy, Restaurants & Yonge Shops. Perfect As Is For Sm …
C2727683 – M2K – 49 CITATION DR Toronto, Ontario – $ 2,380,000
Magnificent Custom Home On Large Ravine Lot In Remarkable Location.Steps To Bayview Village,Subway&Mall.Unsurpassed Quality Craftsmanship!New …
C2727696 – M4R – 122 EDITH DR Toronto, Ontario – $ 779,000
Wonderful Renovated Allenby Home With A Clear Exposure Overlooking Eglinton Park. Open Concept Main Floor That Features A Main Floor Powder Room, …
C2727723 – M2N – 180 BOGERT AVE Toronto, Ontario – $ 895,000
Great Opportunity For A Detached 3 Bedroom Home In West Lansing! 48 Foot Lot!!Walk To Subway.New Basement(2013),New Window(2013),Walk To …
C2727744 – M6J – 27 GROVE AVE Toronto, Ontario – $ 679,000
Situated In Beaconsfield, This Victorian 2-Storey Semi Has Character To Last Through The Ages. Original Interior Mouldings, Trim & Ceiling …
C2727768 – M4G – 68 HANNA RD Toronto, Ontario – $ 1,468,000
Wow! Come See This Fresh And Beautiful Home W/ Fabulous 3-Level Addition!** Finished Bsmt+4th Bdrm, 5Pc Bath/Sauna/Dogwash!** Spacious Master W/Ensuite, …
C2727805 – M1R – 437 BROOKDALE AVE Toronto, Ontario – $ 2,289,000
Located In The Sought After Lawrence Avenue & Avenue Road Area With Close Proximity To Downtown, Shopping, & Parks, A Rare Offering On A Cul-De-Sac …
C2727812 – M5M – 60 RIDLEY BLVD Toronto, Ontario – $ 949,000
Attention Builders! Prestigious Cricket Club Neighbourhood! This Is The North Toronto Lot That You Have Been Waiting For! 30X150 Feet Deep. A Block From …
C2727856 – M6K – 54 EAST LIBERTY ST Toronto, Ontario – $ 395,900
Stylish 2 Storey Loft In The Heart Of Toronto s Sought After Liberty Village Townhomes. Awesome 224 Sq Ft Sunny South Exposure Terrace W/Unobstructed …
C2727872 – M2R – 46 DALLAS RD Toronto, Ontario – $ 1,438,000
**Stunning/Rare Find**53Ftx180Ft!!–Gorgeous/Huge Lot!!–Apr 4500Sf Plus 2000Sf(Bmst),23Yrs(Original Owner) **Centre Hall Design(Scarlett O hara) W/Double …
C2727919 – M6A – 40 REGINA AVE Toronto, Ontario – $ 1,259,000
Bright & Spacious Custom Home! Beautifully Maintained! Main Floor High Ceilings & Doors, Main Floor Study & Family Room, 2nd Floor Laundry, Ensuite For …
C2727954 – M3A – 16 HATHERTON CRES Toronto, Ontario – $ 798,800
Fabulous Family Home On One Of Don Mills Most Sought After Streets. Beautifully Maintained With Roof Done In 06 Furnace 00,New Backyard Fence And Gate. …
C2727957 – M4W – 12 MAPLE AVE Toronto, Ontario – $ 3,150,000
This Exquisitely Renovated/Restored 5 Br 5 Bath Beauty Combines Graceful Edwardian Details W/ Luxe Contemporary Flair. Gorgeous Eat In Kit & Spacious Main …
C2727977 – M6R – 81 PERTH AVE Toronto, Ontario – $ 579,900
Income Property With 3 Kitchens And 3 Bathrooms. Live-In And Rent. Or Can Be Super Single Family …
C2727985 – M6J – 208 NIAGARA ST Toronto, Ontario – $ 614,900
This Cozy & Bright 2 Bed, 2 Bath Th Is The Perfect Urban Oasis Located In Desirable King West. Boasting Loads Of Light, This Unit Has An Excellent & …
C2728027 – M4N – 72 TEDDINGTON PARK AVE Toronto, Ontario – $ 2,895,000
Renovated Classic Home On One Of The Most Prestigious Streets In The City. 4 + 1 Bedrms, 6 Renovated Bathrms, 5 Fireplaces, Heated Flrs, Hardwd Flrs, …
C2728047 – M4S – 213 BELSIZE DR Toronto, Ontario – $ 875,000
Davisville Village. Charm & Character Distinguish This Detached Family Home. Generous Formal Rooms And Orig Hrdwd Flrs & Wood Trim/Stairs. Eat-In Kitchen. …
C2728048 – M2M – 123 PEMBERTON AVE Toronto, Ontario – $ 1,668,000
Magnificent Custom Built Residence In The Most Prestigious Spot In North York. Stylish Interior With Finest Materials And Workmanship. Just A Short Walk …
C2728077 – M2M – 17 CADMUS RD Toronto, Ontario – $ 1,658,888
**Note:Selling Commission 3%/0** Plus Huge Private Pies Lot Quality Stone/Brick Ext.Trought-Elegance+Luxury Rolled Into One By Prof.Decorator …
C2728079 – M2P – 16 MAY TREE RD Toronto, Ontario – $ 3,795,000
One-Of-A-Kind, Contemporary Architectural Masterpiece On Secluded, Approx 1 Acre Wooded Ravine Lot! Designed & Built By Tampold Wells Architects In …
C2728104 – M5M – 478 MELROSE AVE Toronto, Ontario – $ 1,588,000
Spectacular Modern Masterpiece Loaded W/Contemporary Features& The Highest Level Of Finishes Incl. Gracious Living Space With Chef-Inspired Gourmet …
C2728136 – M6C – 557 VAUGHAN RD Toronto, Ontario – $ 374,999
Great Investment Opportunity In A Prime Location On A Big Lot. Close To All Ttc And Schools And Is Currently …
C2728137 – M4N – 210 ST LEONARDS AVE Toronto, Ontario – $ 2,895,000
Custom Beauty In Lawrence Park! Custom Built By Shima Homes(Reputable Builder),Designed By Richard Wengle. Impeccable Attention To Every Detail. …
C2728158 – M5A – 306 SEATON ST Toronto, Ontario – $ 2,200,000
Builders! Restore, Renovate Or Redevelop 2 Prime Properties On One Of Biggest Lots In Cabbagetown – 60 X 150 ! Gracious Light-Filled 1863 Victorian …
C2728163 – M2N – 718 GRANDVIEW WAY Toronto, Ontario – $ 730,000
Luxury Tridel Unstacked Townhouse, Hardwood Floor On Main And Second And Third Floor, Two Separate Parking, Large Master Bedroom, A …
C2728194 – M4N – 7 DONINO AVE Toronto, Ontario – $ 2,398,000
Hoggs Hollow s Perfect Family Home Is Located On A Quiet Dead-End Street In A Country-Like Setting. Steps From Yonge St. & Subway. This Picturesque …
C2728223 – M3H – 1 GOODWILL AVE Toronto, Ontario – $ 799,000
Beautiful Corner Property Making This Bright Ranch Style Bungalow Bright And Spacious. Wonderful Eat-In Kitchen With Views To The Back Garden And Exit …
C2728242 – M4W – 7 GOVERNORS RD Toronto, Ontario – $ 1,850,000
Masterful Renovation In A Spectacular Loc. Det 4+1 Br On Breathtaking South Facing Lot. Stunning Kit&Fam Room Combined. French Doors To Deck+Garden. Home …
C2728256 – M2H – 195 SHAWNEE CIRC Toronto, Ontario – $ 459,000
Great Investment Opportunity! This Lovely 2 Family Pleasant View Home Has A Large Eat In Kitchen, Spacious Living And Dining Room With Tons Of …
C2728264 – – $ 3,128,000
This Newer Custom Built Home Is Located In One Of Toronto s Most Prestigious Neighbourhoods. This Stunning Family Home Boasts 4+1 Bdrms. Large Principal …
C2728268 – M2M – 7 HARRINGTON CRES Toronto, Ontario – $ 609,000
Immaculate 4 Bedroom Backsplit With Separate Side Entrance To Lower Level Offering A 2nd Kitchen, 3 Pc Bath And 2 Bedrooms. …
C2728304 – M2M – 6 GERANIUM CRT Toronto, Ontario – $ 1,788,000
Luxury Custom Built Home On Quiet Crt. Appx. 5,500 Sq Ft Living Space. 10 Ft Ceil On Main, Oak Hardwood Flrs, Marble Countertops And Pot Lights …
C2728308 – M2P – 243 LORD SEATON RD Toronto, Ontario – $ 2,845,000
Exceptionally Radiant Custom In Demand St. Andrew s Locale. Palette Of Lavish Finishes & Superior Craftsmanship! Limestone Front & Cedar Roof. O/C Fam W/ …
C2728317 – M2K – 1 REAN DR Toronto, Ontario – $ 609,000
Prime Location, Steps To Bayview Village, Subway Station, Easy Access To Highway 401, 404 & Dvp. Modern Town House In Luxury New York Tower. Custom …
C2728319 – M6G – 70 BENSON AVE Toronto, Ontario – $ 799,000
Wychwood Area Open Concept Home Featuring A Perennial Garden And Rare Double Garage Which Could Be Used As A Studio. Walk To Artscape Wychwood Barns, …
E2684405 – M4J – 42 ST HUBERT AVE Toronto, Ontario – $ 1,129,500
Price Change. Sep 4: $ 1,129,500 Jul 6: $ 1,150,000
Stunning Custom Home With Magnificent Detailing, Approx 2250 S.F Plus 1000 S.F Finished Basement, Great Open Concept Main Floor Layout With Coffered …
E2686110 – M1L – 51 ROBINSON AVE Toronto, Ontario – $ 799,000
Price Change. Sep 4: $ 799,000 Jul 26: $ 838,000 Jul 9: $ 888,000
Rare Opportunity To Own A Brand New 4Br Home Under 3,200 Sqft Of Living Space. This Great Home Or Investment Features A Great Layout W/Stunning, Open …
E2703525 – M1B – 29 ROSEBANK DR N Toronto, Ontario – $ 354,900
Price Change. Sep 4: $ 354,900 Jul 31: $ 359,900
Beautiful Freshly Painted 4 Bedroom Townhouse With Easy Access To Public Transit & Hwy 401, Centennial College. …
E2712119 – M1B – 54 MCINNES CRES Toronto, Ontario – $ 549,000
Price Change. Sep 4: $ 549,000 Aug 12: $ 569,000
Absolutely Stunning House That Will Not Last In The Market. Fully Upgraded From Top To Bottom, Laminate Floor, Ready To Move In Condition, Newly Upgraded …
E2716355 – M1K – 12 HART AVE Toronto, Ontario – $ 399,900
Price Change. Sep 4: $ 399,900 Aug 17: $ 419,800
Rarely Opportunity To Get House With Big Corner Lot In Desirable Location. Quiet Neighbourhood, Lot Of Potential. Seperate …
E2719510 – M1N – 312 WARDEN AVE Toronto, Ontario – $ 529,000
Price Change. Sep 4: $ 529,000 Aug 22: $ 549,900
Extensive Upgrades To This Beautiful All Brick Home, Total Home Renovated (2013),Kitchen With All Brand New S/S Appliances Inc. Microwave Hood Fan, …
E2726540 – M1H – 127 PANDORA CIRC Toronto, Ontario – $ 485,000
Well Sought After Quiet Family Neighborhood. Well Kept- Move In Condition! 3 Bedroom Bungalow With Standalone Garage & Spacious Backyard W/Interlocking …
E2727138 – M1N – 10 VANBRUGH AVE Toronto, Ontario – $ 599,000
One Of A Kind Cliffside Village Home Thoughtfully Restored & Updated! Freshly-Painted Throughout. Recent Renovations Include New Maple Flooring (Main …
E2727169 – M4B – 6 BRENTON ST Toronto, Ontario – $ 615,000
A Wow House In Donora Park & Dentonia Park Golf Course Area. Your House Hunting Can Be Stopped Now. A Rarely Found Large Living Space And Moving-In …
E2727170 – – $ 599,000
A Wonderful 3 Bdrm All Brick Renovated Family Home In The Upper Beaches With Parking & Sep Side Ent. A Modern & Stylish Design Features All New Natural …
E2727179 – M4L – 144 ELMER AVE Toronto, Ontario – $ 1,049,000
An Executive New Construction Home Featuring High Ceilings, Pot Lighting, Hardwood Floors And Crown Moulding Throughout. Four Bathrooms, Three …
E2727181 – M4E – 17 KINGSBURY CRES Toronto, Ontario – $ 1,829,000
One Of The Best Kept Secrets In The City. Located Among A Quiet Pocket Of Homes Backing Onto Lake Ontario This Cape Cod Four Bedroom Home Could Be …
E2727210 – M4L – 71 DIXON AVE Toronto, Ontario – $ 1,095,000
Grand 3 Storey, Renovated From Top To Bottom, Featured On ""Love It Or List It"". Open Concept Custom Kitchen With Granite, Huge Island, B/In Bar, Main …
E2727214 – M1M – 8 BETHUNE BLVD Toronto, Ontario – $ 589,900
Absolutely Beautiful Guildwood Home On Prestigious Bethune Blvd. Large 62 Lot With Totally Private Yard. Fully Renovated Throughout With Refinished …
E2727222 – M1L – 27 MEDFORD AVE Toronto, Ontario – $ 439,900
Spacious 3 Bedroom Bungalow On A Large 40 Ft. Lot. Solid Home With Updated Electric, Updated Plumbing, Mostly Newer Windows, Freshly Painted, A Welcoming …
E2727232 – M1N – 157 AUDREY AVE Toronto, Ontario – $ 519,900
Fabulous Bright Birchcliffe Village Detached, 3 Bdrms,**Much Larger Than It Looks**,Reno d Thru-Out,Very Spacious Living/Dining Room,French Doors,Sunken …
E2727249 – M1N – 82 CLAREMORE AVE Toronto, Ontario – $ 459,900
Spacious Cliffside Village Home Offers 3 Bedrooms Upstairs Plus Another Bedroom/Den With A Walk-Out On The Main Floor. Very Versatile! Two Walk-Outs To …
E2727276 – M1C – 181 LAWSON RD Toronto, Ontario – $ 699,800
Located At Exclusive Centennial Community. It Has 4000 (2800+1200)S.F. Fin Area. 4+1 Brs, 4 Bathrms, M/F Fam Rm, Gas F.P. Finished Bsmt W Huge Rec …
E2727312 – M1J – 14 SAVARIN ST Toronto, Ontario – $ 399,900
Fully Detached Bungalow With Separate Entrance To Basement. Huge Potential. Live Up And Have Tenants Pay Your Mortgage. Gleaming Hardwood Floors …
E2727336 – M4C – 45 FAIRSIDE AVE Toronto, Ontario – $ 689,900
Beautifully Updated Open Concept Detached 3 Bedroom Home In Prime East York. Designer Kitchen With Stone Counters & Ss …
E2727354 – M4K – 256 BAIN AVE Toronto, Ontario – $ 779,000
Gorgeous Turn-Key 3 Bdrm Reno With Parking In Prime Riverdale.Spacious Open-Concept Main Fl W/ Hardwood.Enjoy The Chef s Kitchen W/ Generous Storage,Large …
E2727369 – M1K – 16 FITZGIBBON AVE Toronto, Ontario – $ 469,900
Welcome To This Impressive & Spacious Home, Nestled On Sought After Fitzgibbon Avenue. Recent Upgrades Over The Last Few Years Include Kitchen, Roof, …
E2727398 – M4L – 33 ELMER AVE Toronto, Ontario – $ 1,049,000
Warm & Inviting 3 Bdrm Beach Home Steps To Queen. Custom Gourmet Kit W/ Granite Counters & Large Island For Entertaining. Fabulous Sunken Family Rm W/ …
E2727409 – M1B – 1795 MARKHAM RD Toronto, Ontario – $ 299,900
Affordable Living-Cheaper Then Renting- Brand New 3 Bedroom/2 Washroom Stacked Townhouse/ Brand New Appliances, …
E2727444 – M1J – 175 TRUDELLE ST Toronto, Ontario – $ 299,900
Rarely Offered End Unit Lovingly Maintained By Same Owner For Over 25 Yrs! Incredible 12 Ceiling In Living Room ** An Abundance Of Windows Allow For A …
E2727448 – M4E – 109 VICTORIA PARK AVE Toronto, Ontario – $ 599,000
Beautiful Brick Semi In The Courcellette And Malvern School Districts! Featuring 3 Bedrooms, Newly Renovated Open Concept Living/Dining Room, California …
E2727461 – M4C – 6 MENDEL AVE Toronto, Ontario – $ 518,800
Live The City Life In A Great Neighbourhood. This Bright, Well Maintained Semi Detached Conveniently Located Within Walking Distance To The Subway, …
E2727489 – – $ 499,000
Stunning Cliffside Home. Everything New From Top To Bottom. New Electrical & Plumbing. Except Most Of Basement Wall Foundation. 4+1 Bdrms Family Room …
E2727512 – M1E – 161 WEIR CRES Toronto, Ontario – $ 524,000
Quite And Mature Neighbourhood. One Of A Kind Larger Ravine Lot. Tastefully Renovated 3 Bedroom Home. New 3 1/4 Inch Oak Hardwood Floors, New Ceramic …
E2727544 – M4L – 63 KINGSMOUNT PARK RD Toronto, Ontario – $ 579,000
Large And Bright Home In A Sought After Community Of Beach Hill In The Upper Beaches. Original Hardwood Floors Throughout, Large Principal Rooms, Eat-In …
E2727566 – M1M – 48 SUNNYPOINT CRES Toronto, Ontario – $ 499,900
Solid Brick 3 Bedroom Bungalow Located Steps From The Bluffs On A Very Quiet Street. This Home Has A Detached Garage As Is Located Across The Street From …
E2727613 – M4B – 7 ELMONT DR Toronto, Ontario – $ 649,999
Woodbine Gardens Treasure, Right Next To Ravine On Private Cul-De-Sac. Gorgeous Contemporary Reno, New Modern Kitchen W/ Granite Counters, Marble Floors, …
E2727625 – M4J – 95 DONLANDS AVE Toronto, Ontario – $ 469,900
Location !!Location !! Location !! Seconds To Donlands Subway. Steps To Ttc. East York, Spacious 2 Storey With 2 Parking. …
E2727666 – M1P – 21 RADNOR AVE Toronto, Ontario – $ 379,900
Just A Few Minutes To Kennedy Subway***This One Have Living & Dining Rm***Huge Bsmt. …
E2727668 – M1S – 61 KNOCKBOLT CRES Toronto, Ontario – $ 649,888
4+ Monarch Built Home On A Child Save Cres!400 Sqft Fam Rm.Addition W/Walk-Out To The Beautifully Landscaped Backyard Oasis!Fully Fenced Yard W/35X17Ft + …
E2727702 – M1V – 34 ASHRIDGE DR Toronto, Ontario – $ 499,000
Totally Renovated 3 Bedrooms Link House. New Modern Kitchen With Granite Counter Top & S/S Appliances. Lots Of Pot Lights (2013), Hardwood Floor (2013), …
E2727731 – M1H – 26 JUTTEN CRT Toronto, Ontario – $ 419,000
Beautiful Semi On A Quiet Cul-De-Sac. Huge Covered Deck Overlooking A Gorgeous Garden, Great Location, Close To 401, Schools, …
E2727746 – M4M – 104 JONES AVE Toronto, Ontario – $ 599,000
Charming Leslieville Sunfilled Home! Cozy And Spacious Semi House, Neat …
E2727783 – M4L – 1318 GERRARD ST E Toronto, Ontario – $ 375,000
Renovator/Contractor Special!! Rare Find, Great Opportunity For Renovators. Lots Of Potential In This Sought After Leslieville Location With A Large …
E2727802 – M4K – 90 HOGARTH AVE Toronto, Ontario – $ 1,299,900
Absolute Perfection This Prime Riverdale Home Has Been Professionaly Renovated Right Down To The Brick, All With Permits And Approvals. Fabulous …
E2727917 – M4M – 316 PAPE AVE Toronto, Ontario – $ 799,000
Stunning, Totally Reno d 2.5 Storey Home In Leslieville. Featuring: Bamboo Floors; A Fabulous Chef s Kitchen; A Main Floor Sunroom With A Skylight, And A …
E2727925 – M4L – 210 KENILWORTH AVE Toronto, Ontario – $ 799,000
Beautiful, Bright, Spacious, Open Concept Main Floor With Hardwood, Gas Fireplace, Large Kitchen With Granite Counters, Oak Cabinets, Centre Island, …
E2727929 – M1P – 47 ARBUTUS CRES Toronto, Ontario – $ 519,000
This Home Is Looking For A Loving Family Ready To Move In ,3 Bedrooms On The Grand Floor, Each Room Speaks Volumes Of Beauty And The Most Welcoming …
E2727934 – M1E – 154 CORONATION DR Toronto, Ontario – $ 469,000
Large 4 Level Side Split. Eat-In Kitchen With Door To Rear Yard. L-Shaped Living/Dining Room With Large Front …
E2727992 – M1G – 47 STONEHENGE CRES Toronto, Ontario – $ 479,900
You Won t Want To Miss This One!Completely Updated Bungalow On A Premium Crescent! $ 30,000 Spent On Gorgeous Landscaping.Main Flr Boasts Oversized Eat-In …
E2727996 – M1P – 217 ELLENDALE DR Toronto, Ontario – $ 455,000
Beautifully Upgraded Kitchen And Bathroom, Great Living And Dining Rooms Along With Marble Wood Fireplace. Amazing 5 Bedroom Backsplit With Additionally 2 …
E2728031 – M1C – 17 CAMERON GLEN BLVD Toronto, Ontario – $ 459,900
Spacious Stunning 3 Bdrm Deatched Home In Rougehill Demand Neighborhood. Close To Rougehill Go Station, T.T.C, 401 & Steps To Adams Park. Thousands Spent …
E2728063 – M4J – 149 EATON AVE Toronto, Ontario – $ 579,900
Fabulous Tree Lined Street A Few Blocks From Pape Subway. Walk To Schools, Parks, Restaurants, Cafes, & Shops. 3 Bedroom, 2 Bathrooms, With Parking. …
E2728091 – M1V – 7 PONDTAIL DR Toronto, Ontario – $ 499,900
Location! Location! Well Maintained House Roof(2010) Furnace & Air Condition (2011) Energy Saver, Kitchen 2009. Finished Basement With Separate …
E2728116 – M4B – 16 PLAXTON DR Toronto, Ontario – $ 534,900
Detached Brick 3 Bedrooms With Finished Basement. Private Drive And Garage In Woobine Gardens. Close To Taylor & Wilket Creek Parks. …
E2728121 – M4K – 94 SPARKHALL AVE Toronto, Ontario – $ 685,000
An Immaculate Home In A Prime Riverdale Neighbourhood. Turnkey Condition With Many Tasteful Improvements Including Solid Hardwood Flooring, Pine Flooring …
E2728150 – M1P – 33 DUNDALK DR Toronto, Ontario – $ 399,900
Beautifully Decorated And Very Well-Kept Home In Central Location. Steps To All Amenities, Ttc, 401, Short Bus Ride To Subway …
E2728153 – M1C – 56 KILSYTH DR Toronto, Ontario – $ 449,900
Location!Location!Location! Welcome To This Cozy Home Located In Centennial Community! Private And Quiet Street! Child Safe! $ $ $ Spent On …
E2728175 – M1B – 35 JOHN STONER DR Toronto, Ontario – $ 339,900
Wow! Amazing 3 Bedroom Semi Detached In A High Demand Area, Very Well Maintained Home With A Walk Up From Basement, Hardwood Flrs On Main Floor And …
E2728188 – M4K – 937 PAPE AVE Toronto, Ontario – $ 529,900
Amaz. Opportunity For Live/Work Or Investment. Currently Res. Well Kept. Reno. Throughout 2Bedrms Bungalow With Sept. Ent. To Basement Apartment: Main …
E2728207 – M4E – 538 VICTORIA PARK AVE Toronto, Ontario – $ 399,000
Great Upper Beach Location! Great Opportunity! This Spacious Home Offers Excellent Renovation Possibilities! Many Original Features. Hardwood On Main …
E2728222 – M1M – 19 NATIONAL ST Toronto, Ontario – $ 564,999
Magnificently Built 3 Storey Freehold Townhouse, Lots Of Space, Butler s Pantry Between Kitchen And Living/ Dining Room, S/S Appliances, Rough-In For …
E2728241 – M4E – 548 VICTORIA PARK AVE Toronto, Ontario – $ 549,000
Stunning Renovated 3 Bedroom, 2 Bathroom Home With Amazing Finished Basement And Parking! Featuring Hardwood And Pot Lights Throughout. Entertainers …
E2728244 – M4J – 15 ROOSEVELT RD Toronto, Ontario – $ 619,900
Fully Detached, Full Two Storey, 3 Bedroom, Two Full Bath (One On Main Floor), Finished Basement, Legal Parking, Walk To Danforth, This House Has …
E2728305 – M1S – 45 HAYWARD CRES Toronto, Ontario – $ 499,000
Agincourt South*Newer Shingles 1Yr* Garage Door 1Yr *Front Door 1 Yr *Other Updates Completed Approx. 4 Yrs Ago* Updated Kitchen Cabinets, Granite Counter …
E2728328 – M4E – 255 SILVER BIRCH AVE S Toronto, Ontario – $ 775,000
This Spacious Home …
W2720050 – M9W – 101 STAVELY CRES Toronto, Ontario – $ 449,000
Price Change. Sep 4: $ 449,000 Aug 22: $ 469,000
Location! Location! Great Detached Bungalow. 3+3 Beds With Separate Entrance, Very Well …
W2726876 – M9N – 9 PINE ST Toronto, Ontario – $ 229,000
Rare 633Sf, 1 Bedroom 5 Year New Townhouse For Sale. Big Enough For Small Family. Gated Community Since Nov, 2012. Price Includes 1 Underground Parking …
W2727143 – M9W – 7 HALLOW CRES Toronto, Ontario – $ 549,000
Real Renovated From Top To Bottom.A Big Pie Shaped Lot With Huge Back Yard And Deck For Enjoyment.New Wires,New Roof,Brand New R50 Insulation,Brand New …
W2727171 – M6H – 71 ARMSTRONG AVE Toronto, Ontario – $ 499,900
Fantastic Opportunity To Own A Large Detached Home In A Great Area On A Fabulous Street. Property Has Been Vacant For Quite Some Time, New Roof And …
W2727187 – M6H – 19 AUBURN AVE Toronto, Ontario – $ 699,900
Rarely Offered In The Area!Will Sell Fast!Live In And Rent!Beautiful Detached Home With The Detached Garage! Unbeatable Location!Minutes From U Of T …
W2727207 – M6S – 1 BRADLEY AVE Toronto, Ontario – $ 549,900
Upper Bloor West Beauty, Detached Brick W/Private Drive,3 Bdrm, 2 Bath, Finished Bsmt. Blend Of Tradition And Modern Living, Lovingly Updated While Still …
W2727273 – M8W – 213 THIRTIETH ST Toronto, Ontario – $ 574,900
Solid 3 Bedroom Bungalow In Prime Alderwood Area. Nicely Maintained Home With Full Basement Apartment For Extra Income. Nice …
W2727287 – M1N – 11 STONE CRT Toronto, Ontario – $ 419,900
Beautifully Kept 3 Bedrooms Raised Bunglow On A Child Safe Court Location*Huge Backyard*Driveway Holds Multiple Cars*2 Bdrms Basement Apt With Side …
W2727296 – M1T – 49 FRANSON CRES Toronto, Ontario – $ 379,900
Spacious Backsplit Finished From Top To Bottom!Renovated Kitchen And New Ceramic Floors,Lovely Sliding Door Walk-Out From …
W2727318 – M9N – 176 QUEENSLEA AVE Toronto, Ontario – $ 559,000
Excellent Opportunity To Move Into The Popular Pelmo Park Area. *Lot Size – 75 X 95 *. * Double Garage. …
W2727321 – M6R – 43 ALHAMBRA AVE Toronto, Ontario – $ 899,900
Excellent High Park Location, Huge 5 Br Home, With Spacious Room, In Original Condition, Sold As Is, Hardwood Floors …
W2727329 – M8Z – 20 STANMILLS RD Toronto, Ontario – $ 649,000
Beautiful Bungalow Located In A Revitalized Up And Coming Neighbourhood. Shop Thequeensway.Com. Minutes To Subway/Downtown. Featuring Original …
W2727341 – M9A – 8 EDENBRIDGE DR Toronto, Ontario – $ 2,300,000
Etobicoke Landmark Home Nestled On The 4Th Of St.George s Golf & Country Club. Exquisite & Exceptional Residence Filled With Character And Details …
W2727361 – M8W – 51 ALCAN AVE Toronto, Ontario – $ 859,000
Stunning Custom Built Home With Large Principal Rooms,Spectacular Chef s Kitchen 11 +Ceiling,Granite Counters, Large Island With Breakfast Bar, Huge …
W2727367 – M6S – 6 BRULE TERR Toronto, Ontario – $ 2,375,000
Spectacular Ravine/Pond Setting In A Beautiful And Established Neighbourhood. Like A New Home In An Original Shell. Spectacular Main Floor, Open Concept …
W2727374 – M6M – 59 CLAYBROOKE ST Toronto, Ontario – $ 449,000
Solid Well Maintained All Brick Bungalow On Large Private Lot! All Brick Attached Garage! Beautifully Maintained Hardwood Floors! Family Room Addition W/ …
W2727400 – M9P – 1 ELMLEA RD Toronto, Ontario – $ 599,000
Humber Hgts Not A Corner Spacious 3 Bdrm 3 Bath On Deep Landscaped Lot Facing Parkette Quiet Child Friendly Street Walk-Out From Kit To South Gdn W/ …
W2727421 – M6S – 58 RAYMOND AVE Toronto, Ontario – $ 789,000
Don?t Miss Out On This Wonderful Baby Point Area Home This Lovely Home Has Been Well Maintained And Much Loved By The Same Owner For Over 56 Years. This …
W2727423 – M8Z – 144 LOTHIAN AVE Toronto, Ontario – $ 778,000
Meticulous Reno Move-In Ready 3 Bdrm Bnglw In Norseman Hts. New Wiring Thruout (Cert) Tamper Resistant Outlets , Potlights, Brand New Hrdwd Flrs, …
W2727426 – M9B – 366 THE EAST MALL Toronto, Ontario – $ 279,900
Fully Renovatd 3 Bdrm Th W Custom Storage&Built-Ins Rare S Exposure Views Playground,German Kronotex Laminate Thruout,New Thermal Insulation In Bdrms …
W2727474 – – $ 385,000
Bright And Clean! Well Maintained Home, Open Concept Main Floor Featuring 11Ft Cathedral Ceilings, Skylight And Fireplace. Fenced And Private Backyard, …
W2727495 – M9B – 12 LORRAINE GDNS Toronto, Ontario – $ 1,299,000
The Ultimate In Privacy! Unique Opportunity To Buy 2/3 Acre Lot In Exclusive Lorraine Gardens In Central Etobicoke. Rare Offering Of Aprx 2693 Sm Lot …
W2727497 – M3K – 100 HOME RD Toronto, Ontario – $ 554,900
Awesome Opportunity For A Detached Bungalow In A Great Area!!Close To All Emenities!!!Originally A 3 Bedroom …
W2727545 – M8V – 17 ALBANI ST Toronto, Ontario – $ 699,900
Attractive & Spacious Home With Large 2 Storey Addition Set On A Beautiful Large Lot (Basement Also Extended!). Desirable Mimico Village Neighborhood! …
W2727598 – M3J – 28 LADYSHOT CRES Toronto, Ontario – $ 749,000
Very Rarely Offered Ravine Lot With Gorgeous Yards, 3+1 Bedroom Bungalow, 1st Time On Market, Original Owner + Pride Of Ownership Throughout, …
W2727651 – – $ 269,000
Attn: I-N-V-E-S-T-O-R-S / B-U-I-L-D-E-R-S / R-E-N-O-V-A-T-O-R-S …. 50 X 95 Corner Lot …
W2727677 – M9A – 31 ABILENE DR Toronto, Ontario – $ 2,390,000
Majestic, Contemporary & Luxurious Home, Over 4,000 Sqf + Over 2,000 Sqf Of Basement W/ Heated Floor, Filled W/ Sunlight, 4 Brms All W/ Their Own Wsrm, …
W2727681 – M6S – 111 PRISCILLA AVE Toronto, Ontario – $ 639,900
Upper Bloor West Charmer. This 3 Brm, 2 Bath Detached Home Features: Hardwood Floors, Eat-In Kitchen, Sunroom & Convenient Mud Room And Walk Out To Deck …
W2727701 – M9B – 5 MILLBURN DR Toronto, Ontario – $ 649,000
Prime Cent Etob Home-Quiet Street Backing To Tennis Crt & Woods.Schools,Princess Margaret,John Galthouse & Martingrove Ci.(John G & Martingrove Are …
W2727740 – M9N – 65 WENDELL AVE Toronto, Ontario – $ 875,000
Luxury Built 4 Bedroom Home With Double Car Garage And Fully Finished Lower Level. The Main Floor Features Quality Hardwood Floors And Limestone …
W2727741 – M6S – 184 BROOKSIDE AVE Toronto, Ontario – $ 599,000
Charming & Well Maintained Detached Home In The Picturesque Neighbourhood Of Lambton. Sprawling Main Flr W/ Large Family Room Addition. Spacious …
W2727749 – M8Y – 357 ROYAL YORK RD Toronto, Ontario – $ 599,900
Attention Urban Professionals-Don t Miss This Opportunity To Own In Trendy Mimico.Contemporary Styling T/O This Executive Home.Fin. Top To Bottom And …
W2727786 – M9C – 5 ALLONSIUS DR Toronto, Ontario – $ 599,000
Bright & Spacious 3 + 1 Bedroom Family Home Beautifully Maintained & Updated In Ideal Etobicoke Neighbourhood. Generous-Sized Principal Rooms. Updated …
W2727788 – M6S – 94 BRULE GDNS Toronto, Ontario – $ 1,750,000
Be Our Guest! Take A Look At This Home. Entertainment-Size Living Room. Room For Your China Cabinet And Buffet Too In This Large Dining Room, View Of …
W2727789 – M6S – 598 RUNNYMEDE RD Toronto, Ontario – $ 889,000
Spectacular Custom Rebuild. Steps To Dundas West, Junction & Bloor West Village. Superior Level Of Finishes Throughout. 3 Upper Bedrooms Incl Gorgeous …
W2727897 – M8V – 76 TWENTY SIXTH ST Toronto, Ontario – $ 749,900
Absolutely Stunning Custom Build Home In A Great Location. 15 Mnts To Downtown Toronto, Close To Lake, Marina, Long Branch Go Stn, Humber College And 24 …
W2727905 – M9P – 30 NORGROVE CRES Toronto, Ontario – $ 1,170,000
""Kingsway"" Property Off The Beaten Path~elegant And Stately Centre Hall Century Home. This Turn-Key 5 Bdrm Offers Unbelievable Character And Charm …
W2727938 – M6P – 59 BIRCHVIEW CRES Toronto, Ontario – $ 799,800
Spacious 4 Bedroom Detached Home In Fabulous Bloor West/High Park Location. Just Steps To Beautiful High Park, Bloor West Village And Subway. Old World …
W2727946 – M6P – 36 HOOK AVE Toronto, Ontario – $ 669,000
Victorian Home Lovers! Fully Renovated!! High Ceilings, Crown Moulding And Potlights, Incredible Ceiling Designs Throughout! Large Windows, Granite …
W2727950 – M3N – 60 PARADELLE CRES Toronto, Ontario – $ 469,888
Triple A Residential Home. Well Maintained. Move Right In Condition! Recently Painted, Newer Kitchen Renovations. Newer Separate Entrance To Basement, …
W2727956 – M3N – 10 EDDYSTONE AVE Toronto, Ontario – $ 120,000
Great Opportunity For 1st Time Buyer. Close To …
W2727958 – M9V – 81 WOOLENSCOTE CIRC Toronto, Ontario – $ 399,900
Semi- Attached Two Storey 3+1 Bedroom With Finished Basement, New Modern Kitchen & Detached Single Car …
W2727980 – M9L – 18 KNOX AVE Toronto, Ontario – $ 1,098,000
Amazing New Custom Built Home. Best Quality And Workmanship. Must Sell ? Seller Relocated. Will Not …
W2728005 – M6N – 314 RYDING AVE Toronto, Ontario – $ 449,000
Fantastic Lot For Builders Or Handy Man, Home Has Been Gutted And Is Awaiting Your …
W2728017 – M6S – 4 DURIE ST Toronto, Ontario – $ 979,000
Very Large Renovated Home In Prime Bloor West Village Steps To Rennie Park, 2 Short Blocks To Swansea Pub, Local School And Recreation Centre, Walkouts …
W2728019 – M3N – 132 LOMAR DR Toronto, Ontario – $ 399,900
Lovely And Spacious Bungalow With Finished Basement. Side Entrance To Finished Basement With Full Bath And Ceramic Floors. Closet …
W2728022 – M9B – 113 PRINCESS MARGARE BLVD Toronto, Ontario – $ 1,199,000
Stunning Princess Gardens Custom Home; Offers 4+1 Bdrms, Incl Main Floor Master With Spa-Like Jacuzzi Ensuite, 3 1/2 Baths Total. Beautiful Finished …
W2728038 – M6S – 23 ARMADALE AVE Toronto, Ontario – $ 1,950,000
Sensational Swansea Showstopper. Renowned Local Builder s Masterpiece On Picture Perfect Reverse Ravine Lot. Superbly Landscaped With Stone …
W2728101 – M8Z – 55 SAN REMO TERR Toronto, Ontario – $ 579,900
Executive 3 Storey Townhome In Oxford Court. Entertainers Delight, Glittering Chandelier,Stunning Open Concept,9Ft Ceilings And Hrwd Flrs. Cosy Gas …
W2728127 – M6N – 870 JANE ST Toronto, Ontario – $ 292,900
Straight Out Of A Design Magazine! Stunning Modern Contemporary Flare! Custom Upgrades Throughout! Chrome & Glass Fireplace In Living, Glass Backsplash & …
W2728130 – – $ 400,000
Hidden Gem For First Time Buyers, Great Location, Bright And Well Maintained 2 Bedroom All Brick Semi, All Bedrooms With Closets And Windows, Skylight, …
W2728173 – M6E – 157 EARLSCOURT AVE Toronto, Ontario – $ 699,000
Absolutely Stunning Custom Built Fully Detached Home Located In Trendy Corso Italia Neighbourhood. Open Concept Main Floor W/ An Eat In Kitchen That Will …
W2728181 – M6H – 32 PETERBOROUGH AVE Toronto, Ontario – $ 899,000
Large Detached Home In A Fantastic Location – Corso Italia At Your Doorstep!! Perfect For A Large Family Or Investor. In-Law Suite At Grade Level With …
W2728183 – M9A – 350 THE KINGSWAY Toronto, Ontario – $ 1,089,000
Humber Valley Village. Sensational Renovated Home Surrounded By Lush Landscaped Gardens. Gracious Entry W/Powder Room. Entertainment Sized Principal …
W2728197 – M9B – 3890 BLOOR ST W Toronto, Ontario – $ 499,000
Trendy Luxury Townhouse In A Prime Etobicoke Location. Features Include Hardwood Flooring, Granite Kitchen Counter With Breakfast Bar, Crown Mouldings, …
W2728219 – M6E – 39 GOODWOOD AVE Toronto, Ontario – $ 449,700
Incredible Value In Trendy Corso Italia Area * Detached All Brick Bungalow (With Extension). Large Principle Rooms, Family Size Eat-In Kitchen With …
W2728283 – M6K – 69 MELBOURNE AVE Toronto, Ontario – $ 900,900
Incredible Opportunity To Buy Solid Brick Masonry Three Self-Contained Units South Parkdale Property! Great Tenants! First Floor 1 Bed($ 1417 …
W2728299 – M8Z – 10 LOBO MEWS Toronto, Ontario – $ 749,000
$ 10 S Of Thousands Spent In Upgrading This Premium Block Dunpar Th. E/W Exposure W/Landscaped City Garden O/L Park Like Residential. 16 Wide, Front …
Read More » Source
By 1929 Toronto
James Hussaini's predictions, about Greater Toronto Area real estate market, are coming true (the original video was recorded early 2012): In this video you …
Video Rating: 0 / 5