Canada's veteran finance minister quits, budget surplus in sight
Is Flaherty leaving Canada in the lurch?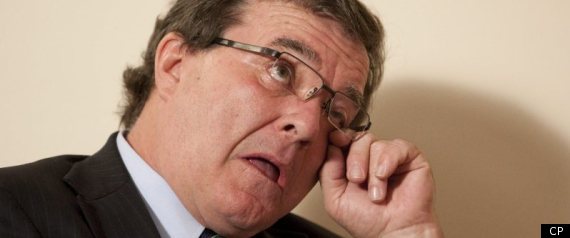 The Canadian Press
In his own words: Jim Flaherty on why he resigned as finance minister
Jim Flaherty has announced his resignation as finance minister, stepping down from a job he accepted in 2006. His statement:
Yesterday, I informed the prime minister that I am resigning from cabinet. This was a decision I made with my family earlier this year, as I will be returning to the private sector.
I am grateful to Prime Minister Stephen Harper for providing me with the opportunity and responsibility to serve Canadians as their minister of finance since 2006, one of the longest-serving finance ministers in Canadian history. As a government, we achieved great things for Canada and I could never have accomplished what I have as finance minister without the full support of Prime Minister Harper.
As I reflect on my almost two decades in politics, I am proud of the accomplishments of the governments I was part of, provincial and federal.
In my time as finance minister, I am proud of the work I have done to help manage the deepest economic challenge to face Canada since the depression of the 1930s and ensure Canada emerged stronger and as a recognized economic leader on the international stage.
Along with managing Canada's performance during the global economic crisis, I am pleased our government brought forward positive measures to make Canada one of the world's best places to do business. I am proud to be part of a government that:
— reduced Canada's business taxes to the lowest level in the G7;
— reduced other taxes 160 times;
— introduced the tax-free savings account (TFSA) and the Working Income Tax Benefit (WITB)
— took action on four separate occasions to protect Canada's housing market; and
— took historical steps to strengthen Canada's securities regulation regime.
I also made it a priority to help improve the well-being of people with disabilities. Our government has worked hard to ensure our country benefits from the talents and abilities of Canadians with disabilities. We improved accessibility through the Enabling Accessibility Fund, provided new investments for people with disabilities to join and contribute to the workforce, and helped improve access to financial independence through programs such as the Registered Disabilities Savings Plan (RDSP).
My goal was always to get Canada back on track to a balanced budget after the large deficit we agreed was necessary in Budget 2009 to combat the Great Recession and protect Canadian jobs. As outlined in Budget 2014, I followed through on that commitment. There is no doubt that Canada's budget will be balanced in 2015. Canada's fiscal position is the envy of the developed world. All Canadians can be proud of the country's performance.
Now, I will focus on life beyond politics as I return to the private sector. I believe that I have served my country, province and constituents of Whitby-Oshawa (Ont.)to the best of my abilities and thank them for their continued trust and support for almost two decades. It has been an honour to serve Canadians with the prime minister, cabinet and caucus colleagues and all members of Parliament in the House of Commons.
As many of you know, I faced a health issue over this past year. I have received much support and good wishes from Canadians across the country and for that, I am thankful. I am happy to report that I am on the road to a full recovery and the decision to leave politics was not related in any way to my health. This decision was made because it is the right one for me and my family at this time.
I would also like to thank all Canadians who expressed their support and encouragement over my years in public service. I have often said that public service is a noble calling and have encouraged young people, including my own children, to consider it as a worthy career choice. I believe a career in the public service is the most satisfying and personally enriching career you will ever find.
I want to thank my wife Christine and our three sons for their unwavering support during my time in public office. I am lucky to have such a wonderful family.
As I begin another chapter in my life, I leave feeling fulfilled with what we have accomplished as a government and a country during one of the most challenging economic periods in our country's history.
We live in the greatest country in the world, and I want Canadians to know that it has been my honour and my privilege to serve them.
Thank you.
Jim Flaherty